Our success rests on your performance.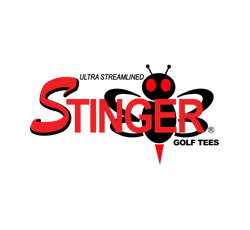 Stinger Golf launched its popular 2 1/8" tee in 1998, which was sold in select pro shops. It quickly grew to offer a complete line of six styles, lengths and colors that are now found online and at well-known retailers like Golf Galaxy, Dick's Sporting Goods, Academy Sports and Outdoors, Golfsmith, Dunham's Sports and many more. Stinger brand products can also be found at some of the nation's top golf courses, including many rated in the Top 100. The company recently expanded its online shop to include a line of high-performance golf headwear and accessories.
Stinger Golf is based in Northeast Ohio, surrounded by a region that is steeped in golf history. Some of the most notable names have played at nearby country clubs like Firestone Country Club, Brookside Country Club, Kirtland Country Club, Sand Ridge Golf Club, Canterbury Golf Club and The Country Club of Cleveland.
Stinger Golf was purchased in 2007 by Louis Rittberger, who draws from his early experiences as an accomplished junior and college golfer. As a junior he participated in events such as the Junior PGA Championship and USGA Junior Amateur, and while attending Elon University he was named Academic All American. Mr. Rittberger continually works to expand the company portfolio with new and exciting high-performance products.
Recently, Stinger Golf added the expertise of former head golf professional and current PGA of America apprentice Kevin Maust. His experience in the golf business is proving to be invaluable in his new role; Director of Green Grass Sales.
The company's factory and warehouse facility turns out over 20 million golf tees each year to meet growing demand for its products.
"The best golf product to come along in years!"
Golf Today Magazine