Stinger Tees are proven.
In a robotic test by Golf Laboratories, Inc., 3" Stinger Competition Tees were compared to a traditional 2 3/4" golf tee. A robot swung a Callaway Great Big Bertha™ driver with 10 degrees of loft at 95 MPH. The results speak for themselves:
The golf ball left the Stinger Competition Tee 2 MPH faster
The golf ball spun an average of over 500 RPM less off the Stinger Competition tee
The golf ball had a slightly higher trajectory and carried farther off the Stinger Competition tee
The golf ball traveled 14 yards further on average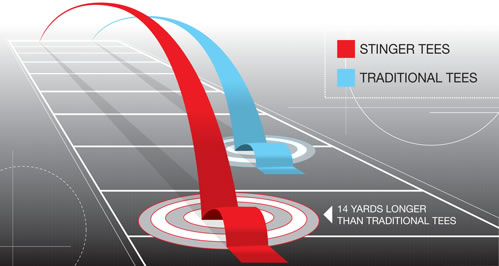 The word on the course:
"The best golf product to come along in years!" -- Golf Today Magazine
"The only tee that I use is a Stinger Tee. The others I just throw away." -- Brian Pavlett, World Long Drive Champion
"Stinger tees definitely give me more distance and accuracy than any other tee. If I can get an advantage over the field by using a better tee, I'll do it every time!" -- Chris Anderson, Nationwide Tour Player
"If I didn't see it with my own eyes, I wouldn't have believed it"." (After his robotic tests proved that a golf ball hit off of a Stinger tee traveled an average of 14 yards farther than a ball hit off a regular tee) -- Gene Parente, Owner of Golf Laboratories, Inc.